Fine, you asked for it. A heinous picture of me, to prove I am participating in the revolution. For anyone with more photography experience than I, how the hell do you focus on a spot, where nothing is, yet? Say, yourself, after you click the timer button…. I tried to make Tatum stand still and/or jump in that spot so I could focus on him, but he was very uncooperative.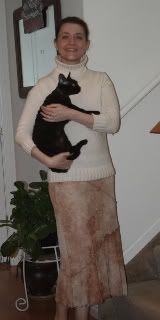 This is not my most flattering, nor elegant, skirt. But It IS nice and flowy. I feel very girly. Bonus: no zippers to contend with at every potty break. (Apparently I'm back in kindergarten. Hello, potty breaks! No restrooms here! Where are my Smurf underoos?)
But what's really exciting is,
the revolution is spreading
!!!
Apart from that, I have been avoiding work, getting my engagement ring cleaned obsessively (what's that you say? My sister-in-law has a brand new, huge, sparkly one? I hadn't noticed.) and working some more. I am ignoring the fact that The Funasaurus is about to go away for two weeks, hoping that maybe it just won't happen if I don't say anything. He has been working hard, so I try not to get too clingy, but part of me is panicking about a) my midnight butt-warmer going away and b) my computer going away. (I say "mine." Technically, it is "his." But I use it more. Squatters rights.) How shall I blog and do e-mail and everything else that I normally do when I am supposed to be working? The horror.
Plus, I have decided to go back to the wild while he is gone. Savage living, really. I'll barely have running water. I am going to… (drum roll)
turn off the T.V.
for the whole time he is gone.
!
Well, minus
American Idol
. I am giving myself that freebie so that I can lure my unsuspecting neighbors over for dinner to keep me company, when I get lonely mid-week, husband-less and T.V.-less.
The thing is, there are things I want to
DO
. I... don't know what they are. But I have been feeling like I have no free time, recently. And I have this creeping suspicion that there is this whole world of FUN that is just out there waiting for me, and I am fully suspect of
Friends
reruns for keeping it from me.
BLAME FRIENDS! It's my new campaign. Never mind they went off the air years ago.
So I have decided to take the most masochistic route possible to my beloved's absence, and shall also be depriving myself of my electronic babysitter. I'm currently taking bets on how long that lasts. Vegas puts the odds on 45 minutes after he leaves on Sunday, maybe an hour if I take my customary weekend nap.
Wish me luck.