We were watching
My Fair Lady
last night, and I have come to the conclusion that it sucks not having an excuse to wear such gorgeous ball gowns on a more regular occasion. Also, if I had it to do over again, I think I would have modeled my wedding dress after the one Audrey Hepburn gets to wear to the ball where she woos the Hungarian prince-guy.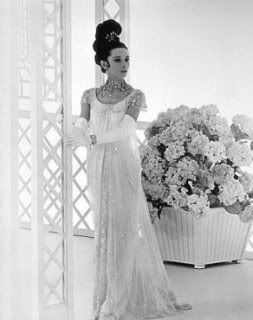 Sigh
.
I have thus decided to decree Thursdays
Dress (or skirt) Day
. Every Thursday, everyone in my office shall wear a dress, thus I spake. Working from home, everyone = me, (and maybe Sugar, if I can catch her.) Every revolution must start somewhere.
Don't get me wrong, I like my jeans as much as the next girl. But I love all the costumes and the finery, and despite the ankle-length skirts, the tops of those dresses were quite fitted… and flattering.
This, coming from the girl who is still wearing pajama pants at half past noon.
I am getting a chance to dress up tonight, though. We are going to the
thee-ah-tah
. The Funasaurus is taking me to see
Stomp
, which I have always wanted to see. There's something intensely satisfying about people jumping on garbage cans in a harmonious manner.
Finally, it's really Friday.