The universe did not send me cookie dough ice cream. It sent me a bouquet of lilies and orchids from Hawaii, instead.
!
…
!!!!
(via my cousins, as a belated birthday present.) Uh, thanks, and also WOW.
It's been a good couple of days. The sun is shining on a weekend for the first time in forever, and I have spent the entire day inside on the computer, much of it researching flowers I could plant if I were to bother going outside.
Meanwhile, I got my sprinklers turned on, having bribed a neighbor for help while The Funasaurus is yet again out of town. Happily, he's back tomorrow for a good, long time.
And really, that's about it. This is the first day in MONTHS that I have exactly nothing to do, nothing penciled in on the calendar, and I am really loving it. I'm off to take a nap, which actually requires more effort than you might think, since it involves trying to convince this guy to move: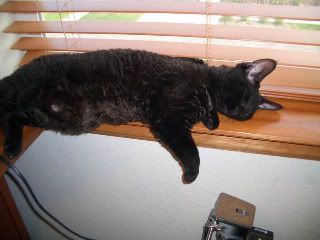 (
Normal
kitties don't sleep like that.) He is a very sound sleeper. And amazingly immovable for only weighing four pounds. Albeit four pounds of faux-mouse-chasing-
FURY
.