So it's officially
Dress Thursday
! Of course, I couldn't fully commit, I only went for the skirt, because I don't really own any warm dresses.
It turns out, taking a picture of yourself is a lot harder than I thought. I found the self timer; I figured it couldn't be easier! I figured wrong. It is actually not so easy to get the stupid camera to focus on you when
you
are the one behind the camera doing the focusing. The camera wants to focus on the white wall behind where you will be, instead (because you do not want to use your clutter-filled living room as a backdrop, naturally) which it has some trouble doing. Then you turn out to be a blob. Then you cannot quite fit into the range the camera allows. (Note to "self": drop non-subtle hints for tripod for birthday. HI BABY!)
So here is a picture of most of my skirt, minus a large percentage of my head, and something white, I think maybe the magazine I was using to prop the camera up on: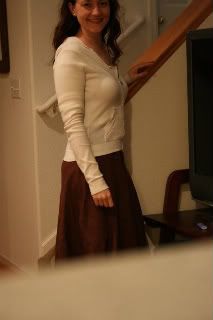 As you can perhaps tell, working from home leads one to feel less inclined to do things like iron. And comb one's hair.
Meanwhile, Tatum, and apparently, a large percentage of the internet, feel that perhaps I was a bit unfair in my description of his svelte self, yesterday.
Feeling a bit remorseful, I give you Tatum being cool,
not
showing his lack of balls to the world:
I give you Tatum, the lover of Sugar.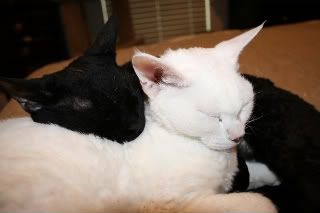 Sometimes he holds her protectively.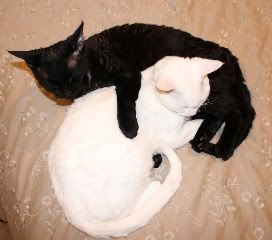 Sometimes he snuggles under her for safety.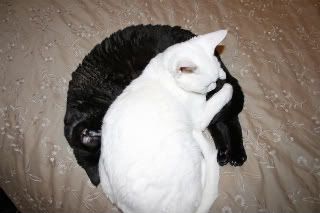 Sometimes he eats her earwax and then gnaws on her neck while she is trying to sleep.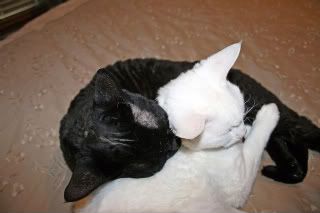 I apologize for not getting a better picture of the gnawing, but Sugar does not put up with that shit very long. There was not time for a second picture before she got the heck out of there.