So I am going to cheat today, and just post some more pictures. Because I am still reeling from the weekend, my throat is still sore, and I still can't feel two of my toes.
And I'd do it again, it was awesome.
Angela, since you asked, here's the closest thing I have to a full-length dress picture, hopefully there'll be more to come: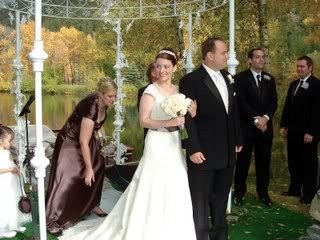 (Also goes to prove, if you pay enough people enough money, anyone can look like a princess! New motivation to seek my fortune… lotto counter, here I come!)
LilyCurly, here's what the lights and fake flowers that hung down from the ceiling looked like close up:

Kind of creating this effect in the evening:

Also, did I mention we had a floating couch at our wedding? Because we so did, and it so rocked. Mostly because it was filled with champagne, spanikopita, and a tux-ed up Funasaurus.