Do you want to see one of the coolest presents I got for the wedding?
Here.
Bask in it's fabulousness. I was feeling very lucky when I received it.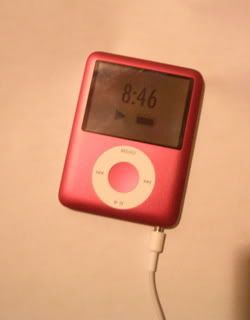 Do you see how is it pretty and shiny and
cranberry colored
? Do you see how is is sleek and lovely and yummy? I kind of imagine it to be like a delicate little metallic wafer, it is so sleek and delicious.
What you do NOT see, however, is how it
hates me
.
We own two computers. TWO! I have spent quite a bit of money and time downloading all sorts of fabulous
pickled herring songs
onto both of them, only to have the IPod REJECT BOTH OF THEM.
Mother fucker. I am so frustrated I fantasize about smashing the delicate slice of cranberry colored fabulousness with a jackhammer. ... Strapped to a bulldozer.
It taunts me.

I have play lists, oh yes I do. But one computer apparently is not new enough, and the other computer doesn't let the IPod do anything. It may be broken. I'm not sure. Can an IPod freeze like a computer? It doesn't do much anymore. I push on buttons, and it just sits there all pretty and cranberry and whatnot, but doesn't DO anything. No more menus.
Never were any songs.
The Universe is
back to its old ways
.
And I am angry. Of course, I am also newly married and all happy about being in
wuv
, making my anger sort of Funasaurus-love-filled, thus rendering my fury a bit less... Zeus-like. And a bit more whiney.
So far, The Funasaurus is realizing married life is much like committing to a pissed-off child who needs a nap but will not take one unless you make my Ipod work oh PLEASE for the love of God make my Ipod work, and he has decided to deal with the whole thing by retreating to the nether world of the NFL in HD.
If anyone has a recommendation for making my new toy come back from the dead, or strategy for whatever Madden game The Funasaurus is playing these days, please feel free to come over. And please bring wine.