If I asked you, "What is the best possible thing that could have ever happened to me?" and you answered, "The Funasaurus," you would be right. But if you had answered, "Receiving an awesome, awesome bag with KERMIT on it that reads, 'Green and Loving It' on a random Monday," it would have been a close second.
Behold, the second-most awesomest thing to have happened to me EVER.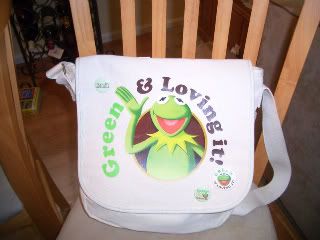 I could die of happiness.
(Although I don't want to, seeing as how I would hate to bury such awesomeness with me in the ground [for naturally I should take it to the grave] instead of strutting all over greater Denver showing it off.)
Meanwhile, we had a tornado warning last night. We weren't sure whether to take it seriously until the tornado sirens went off. I didn't even know we had tornado sirens! So we packed up the cats, the wedding album, and my new awesome bag, and headed over to my sister-in-law's house, since our house is made of sticks. And particle board. And while sister-in-law's house is also made of sticks and particle board, she has a cement basement, so we hung out down there, torturing the cats and looking through wedding pictures. Then we left 15 minutes later when the TV said it was probably just thunderstorms. Also, we ran out of chips.
And that's all the excitement we've had. And if you're not watching
So You Think You Can Dance
, you really should be.
http://www.youtube.com/watch?v=JqOhAwXZMug