So we were at the filming of
The Daily Show
yesterday, since it's here in Denver for the DNC. You can watch the whole episode here:
I am pretty sure I can hear The Funasaurus laugh at least once, but I am probably the only person who thinks so.
Tickets for the show are extremely hard to come by, and are ordered months ahead of time. We are not that organized, but happily we have good friends who are and who know how much we love faux news. So they let us tag along with them. Of course, we still had to get there four hours early to get a place in line, because they overbook because apparently they don't have faith in Jon Stewart fans to show up, so your "ticket" only reserves you the right to stand in line and be one of the first 100-some in: hooray! Nacht.
So I am a little sunburnt, and very hoarse from screaming for Jon (because we do not get many celebrities here in the middle of the country, and so I was totally o.k. with screaming rabid-hyena-like for a fake news anchor).
In line we were given all sorts of fun (?) political shwag.
A pin to announce my social beliefs! How original!
A fan with an oh-so-clever pun: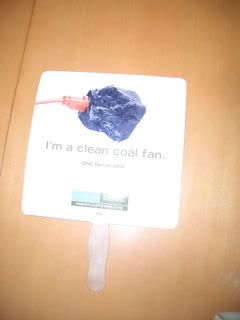 And the very best, a squishy Obama-as-President!
See? He squishes.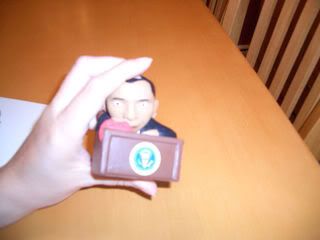 It's like he's hiding behind the desk since he knows he's not quite supposed to sit there, yet.
I got a sticker, too, but I can't find it.
It was interesting to watch the filming, they got us all warmed up and hyped and encouraged "louder than normal reactions" (code for: please be a good laugh track, even if you don't find this humorous) and then Jon Stewart came out all professional-like and seemed annoyed that we were cheering and laughing so loudly. Did we have a miscommunication with the fluffers?
But overall it was fantastic, Jon Stewart is a very funny person, and the whole crew was amazingly professional. They do the whole thing in one take, in real time. No re-dos, no extra time on commercial breaks, no autographing rabid-hyena-esque fan's breasts. Sadly.
Of course, this has been a hellacious week with work, I am still trying to recover from traveling, so I had to work really late last night. And Monday night. And will have to work again late for the rest of the week and really. I am so sick of work. I have better things to do with my time.
I did manage to go for a lovely hike over the weekend, though, and I'm headed back to the mountains this weekend. Where hopefully there will be plenty of wine to sooth my aching throat.