Well, I did it, I got us a rose bush. And I pulled out a dead bush, and I planted the rose bush, which I shall name the Tudor Bush in honor of my favorite author… and I wish it didn't sound quite so dirty, but oh well.
Speaking of dirt. This next sentence shall perhaps clue the discerning eye into the fact that I am something of a gardening virgin. It turns out: gardening
makes you dirty
.
!
I was not quite expecting this amount of filth. Gardening was hard on my muscle-free arms and prickly on my newly buffed and manicured feet. I endured a lot of tickling to get those calluses off. Now I am kinda realizing people grow them for a reason. They serve a biological purpose. They help keep every FRICKING STICK AND PEBBLE FROM FEELING LIKE SHARDS OF GLASS.
Prickly
glass.
I was wrestling with the bush I was trying to get rid of when my neighbor wandered over, Avon catalog in hand. In flip-flops. I in my gardening gloves (they are purple! So cute! Shame to get them dirty…) and SPF 50 were wrestling a plant of less than a foot high. That sucker had IRON roots, I tell you. (Or, wait, that also might have been the pipe I hit with my LARGE SHOVEL. Hee.
Oopsie
. Hopefully The Funasaurus won't read that part. I buried it, no one will notice, right?) So anyway, here I am in a sundress, flashing the entire neighborhood as I treat the sad little dead bush like a rabid alligator, and my neighbor is all, "Er, do you want a hand with that?"
I said "No" in the most yes-please-y way possible.
So she took hold of the bush, and yanked it out with her manicured fingers while I and my LARGE SHOVEL and gardening gloves stood by and watched.
Apparently she is not a gardening virgin.
So then I planted the new rose bush, and used my very burly set of pink floral gardening equipment to do it.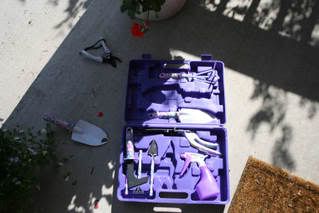 Can you see? Here's a close-up:
See the bit of dirt? I
used
it!
I also forgot roses have thorns so I got scratched everywhere possible, including my BUM. But that was not so much due to the rose bush as the sad little dead bush behind me that I forgot about when I sat back to admire my handiwork.
Ow
.
Last night we went to a charity event. I am much more suited to charity events. Pretty dresses? Yes, please! Copious amounts of wine and valet parking and
gourmet cupcakes
? Oh, I was in heaven! Charity suits me. Gardening... was a bit of a stretch.
But now I have this in my yard.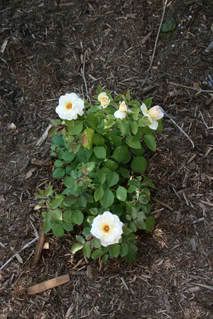 And this.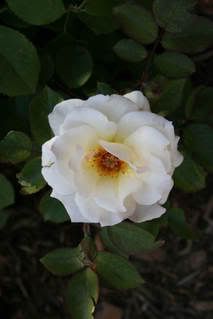 Mrs. Tudor, this bit of princess-y deviance was for you.