I am pleased to announce that not only did I NOT kill the rose bush, but it seems to be happy. (Either that, or it's putting on quite the dramatic death, but I am pretty sure it's happy.)
See?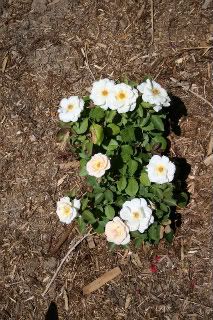 Nine!
Nine roses!
When I planted it on Friday, there were
two
! Oh hooray for undead flowers! … Do you like it how I've turned them into vampire flora?
So anyway. That's about the highlight of my weekend. I continued to discover I am so not meant for a) heavy lifting b) wielding power tools, at a construction site on Saturday. Don't ask. I was trying to do a good thing, although I think my biggest contribution to the day was the sharing of my Combos with the other workers at lunchtime.
I am involved in a vague-ish deception, which I'm not really happy about, because I'm not good at lying. Or avoiding the truth when the truth involves marriage and pretty flowers and rings and formalwear. I love talking about marriage and pretty flowers and rings and formalwear.
Have I said too much?
So there's going to be an elopement, but at least I am invited to the elopement and get to wear a fabulous dress (provided I do crunches every day from now until the elopement) so it's not all bad. I am just trying to figure out how not to talk about it. Maybe I will post some pictures of my dress at the Not-A-Wedding. We'll call it the NAW. Remind me.
And there are a lot of birthdays this month. Happy birthday to you, if yours is/was this month, I am worried I forgot someone. Certainly a non-personalized generic shout-out on my regularly updated blog will suffice?