This morning we woke up to this: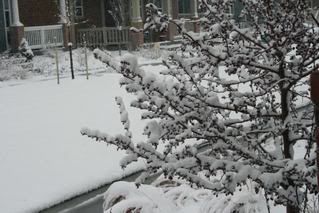 And This: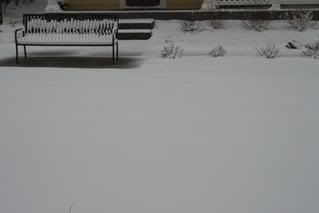 These pictures are dark not because I was up that early, but because IT'S STILL COMING DOWN and my camera kind of freaked out when I tried to focus on the snowflakes because there were SO MANY. And so. You know. I'm kind of OVER the whole snow-thing. What with it being April and all. Except I think now I might go skiing again this weekend, so HEY DENVER FOLKS! Thanks for actually staying off the roads last weekend. That was really awesome. Can I get a repeat?
Having near-blizzard conditions on this gloomy spring day did not deter me from
Dress Thursday
, though! No no, the revolution must go on! (Though the revolution now includes a long-sleeved t-shirt that was not originally part of the plan.)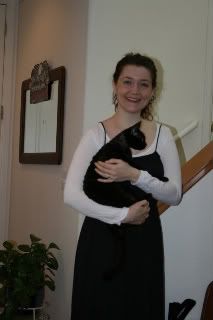 I am nowhere near as happy or as high as I look in this picture, but hey, I fake it well. And I am fantasizing about the Caribbean even more than before. Which brings me back to the topic of sunscreen. Because I think I get a slight flush when I even THINK about UV rays. One of my hats has arrived. I don't look great in it, but I it's more function over form, at this point. I'll take pictures when there are two.
Even last weekend when I went skiing, and applied copious amounts of SPF 50+ multiple times AND wore goggles AND wore a hat that came down
to
said-goggles, AND also a neck warmer that I had pulled up over my nose, I still managed to get my telltale freckling that happens when I do anything except stay inside a shady house with the blinds drawn all day long. My freckles are not… cute. There are no "angel kisses." No, it's more like the freckle fairy beat me with his bully club, and there's a ring around the exterior of my eye that kind of looks like the black eye from a bar fight is finally healing, except,
WAIT!
If you get a little closer there's kind of some freckly-splotchyness going on, there.
I'm going to look awesome after a week on the beach. But I don't care, The Funasaurus is already stuck with me, and I'm determined to get my money's worth in umbrella drinks.