I skied on Sunday, and I will say the conditions were
perfect
. I will
not
say that my 67-year-old mother kicked my ass going down the hill because that would just be embarrassing.
After a glorious (!) day of skiing, I got home and fell asleep for two hours. This, following Saturday, when I went out for cupcakes with two girlfriends and bought a bouquet of daffodils for myself on the way home, which are pretty much my favoritest flower, ever. It was an awesome weekend, despite the fact that the daffodils did not quite… open up like I had hoped.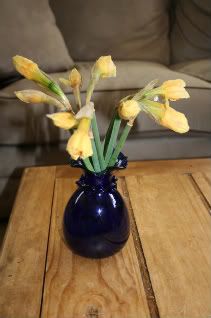 Sad, sad little repressed daffodils. I'm going to see if I can trade them in.
Meanwhile, one of our ever-ass-ohilic cats has figured out it's fun to climb behind our washer and dryer and slash our dryer tube with their gnarly little devil-claws, and when that didn't bring a big of enough of a lint storm for their furry little hatefulness, they managed to pull the tube out completely from the back of our dryer. Thus sending all the lint all over the laundry room and the whole place has become one big lint trap IT'S DISGUSTING.
So I have been hang-drying our clothes for the past week, which is a TOTAL BLAST let me tell you, and also The Funasaurus prefers his towels not-stiff-and-bristly, thanks anyway. But I don't know who to call. The warranty is just up (naturally). Is there such a thing as a dryer repair man? Do I call Home Depot? Do I call GE, the makers of my dryer? I feel dumb enough I have decided to ignore the problem and just make The Funasaurus suffer through another round of crackly sheets. He would be much obliged if you all have any suggestions.
At least it's 70 degrees today, and the snow is gone! Hooray!