Wherein I make one Harry Potter reference, but seeing as how I haven't read the book, yet, you're probably safe.
On Sunday I drove back up to my mountains (I feel as though I practically own them; they're part of the kingdom-to-be) just outside of Breckenridge, and I went on a gorgeous hike. The wildflowers were in full bloom, and they were
everywhere
. I inhaled the fresh thin mountain air, thinking gleefully of everyone back down in Denver suffering through 97 degrees, applied some delicious smelling sunscreen, and trekked my way up to a pristine mountain lake surrounded by columbines... which also happened to be the breeding ground for Voldemort's army of mosquitoes, who agreed with me that my sunscreen smelled fabulous,
dah
-ling.
So now I am back home, covered in the most enormous bug bites I have ever seen, and investing all my stock in the Cortizone company, hoping to get some of my money back. But at least I got some pictures.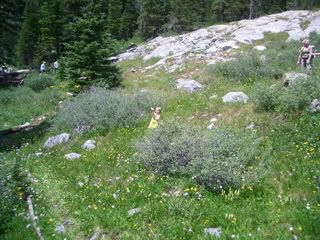 Note my friend's beautiful child in a little yellow sundress 'midst the wildflowers. I took the picture quickly, before a Julie Andrews dressed as a rebellious nun came yodelling through to swoop the child up.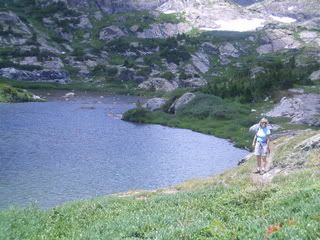 Up at the lake where we finally shared our peanut butter lunch with swarms of bloodthirsty flies. It only looks innocent and picturesque from a photograph.