Last night The Funasaurus was out, so I indulged in a bubble bath, which I haven't done in quite a while. The premise was to ying the
Hunchback of Notre Dame
yang. This is the next book for our book group, and really, the three-paged descriptions of fucking marble tables and ladders was just not doing it for me. Also, I think authors who address their audience directly run a high risk of sounding really pretentious… don't you agree?
So I settled into the bath (good bubbles, I was loving it a little too much, with the bubble beard and whatnot. I may have pushed Tatum's face in a little. He was asking for it, peering all googly-eyed into the mountain of suds and batting them onto my book) to force myself to get to at least page 100. I declared that a suitable defeat, deeming it enough patience to arrive at book club with my head held high, ready to denounce authors who were paid by the word, as opposed to by the book.
But then… I got into it. Somewhere around the descriptions of the stupid rocks in the road, there was suddenly scandal and beatings and lust and gallows and stolen children and silk shoes. Now, I love me some stolen children and silk shoes, so I pressed on. Somewhere in there, The Funasaurus came home, sad because I had not ordered him Chinese like I had said I would. (Can't cook dinner if I'm busy marinating myself in floral bubble bath, now can I?)
I generously offered he could join me in the bath, and he backed away liked I had asked him to dance ballet with me while shopping for a dress at the mall.
That is to say , he did not exactly seem as excited about the bath as I had hoped. I tried batting my eyelashes and hiding the soggy classic literature I was still attempting to read. He muttered something about no amount of temptation could get him to willingly boil himself (harrumph, sue me, I don't care to bath in sub-arctic temperatures) and went off to order his take-out while I developed into a soupy, Quasimodo-loving prune over the next
TWO HOURS.
Today I am still a little dehydrated, but I smell lovely, and I feel all relaxed. And we did go snowshoeing over the weekend: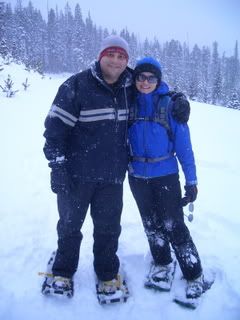 Hi.
And I know it looks all sweet and cute and bloated and whatnot, but really, if you look closely, you can see that I am holding The Funasaurus' sunglasses. That is because just moments prior, he was prying himself out of a very large hole in the snow that literally swallowed him, and I, being the supremely helpful and concerned wife, held his sunglasses for him as he struggled to get his head unburied.
And we saw a pretty door with some snow. And I took a picture.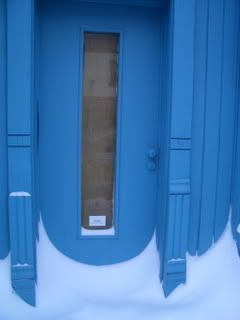 And I also bought the most
amazing thing ever
. Along with the most
amazing thing-ever-maker
. Which I so did not wait to use, and busted out today. Anything that lowers the cake to icing ratio, in my mind, is a Very Good Thing.
Did you know that one regular box of cake batter actually makes an ARMY of mini cupcakes? I cooked about 100 of them, before I decided that there was probably no way we could eat more than that, and so I sadly washed the rest of the batter down the drain. … After feeding myself many generous spoonfuls of raw dough, seeing as how there was no nay saying Funasaurus around with all of his fun-hating "salmonella" talk.
Now I'm off to read more of La Esmerelda's adventures with the ol' hunchback, all hyped up on my yellow cake and chocolate frosting high. G'night.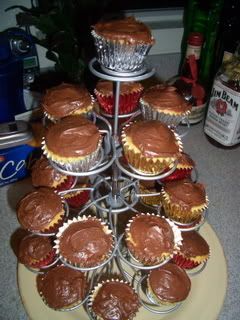 (Don't even try to tell me you're not just a LEETLE bit jealous.)
Also, I feel the Grand Marnier and Jim Beam in the background give it that little je ne sais quoi....