So here I sit. The bags are packed. The presents are wrapped and stacked, sitting on the kitchen table. Work is done, reports were sent, FedEx should pick up any second. The plan is to leave… soon-ish. We're driving in to the mountains, to see a Christmas show, friends, and a quaint ski town.
Naturally, this is the first time in three weeks that the forecast is calling for snow. The flurries are falling, and threatening to grow heavier and thicker with each passing second. The universe, as always, can faintly be heard going "neener-neener-neener, sucka."
The Funasaurus is still working, and Discount Tires' wait list to put on snow tires grows longer with each fucking snowflake.
I have comfort-eaten my fair share (as well as The Funasaurus' fair share) of all the varietals of chocolate that have made their way into our house this holiday season. Paired with the artic winds, dry air, and also maybe a few glasses of alcohol, my face has become dry and peel-y, as well as breaking out much the same way a 16-year old boy's would after a Stuffed Crust Pizza.
It's sexy.
I take solice in my newly reddened hair and darling new sweater.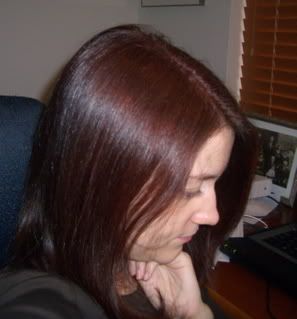 The angle from whence you see the least amount of said acne, and also how THRILLED I am at having my picture taken this close-up.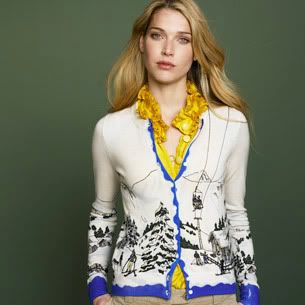 On a model with considerably better skin and wearing a much cuter blouse. I am just not sure I will ever be cool enough to pull of yellow ruffles.
Anywhos. Please do your best Sun Dance for me, The Funasaurus, and my darling sweater. And also for my poor little Honda, seeing as how The Funasaurus' car (you know, the one with all-wheel-drive) is in the shop. Or, at the very least, (or, perhaps,
preferably
) please do a little, May There Be Tasty, Tasty Wine, Wherever You End Up Dance.
Cheers!