So, I did it. I was nervous, and worried that it wouldn't happen for some reason, so I didn't post on Friday, because I didn't want to jinx it. I was sure the parlor would call and say they were overbooked, or that we'd hit horrendous traffic and be so late that they were closed, or something….
But everything went smoothly, and on Friday Shooting Star picked me up, and took me to get my tattoo. I've waited 10 years. 10 years. (Minus two days.) I decided I wanted a tattoo on my graduation night of high school, and I told myself I had to wait 10 years, because tattoos are very permanent, and if I still wanted one after 10 years, then I could get one. And I still wanted one. (Also: holy fuck, I graduated from high school a decade ago.)
So here's a picture:
Isn't it lovely? In your face,
Angelina
.
Ha ha!Just kidding, mom.
Here's what I really got: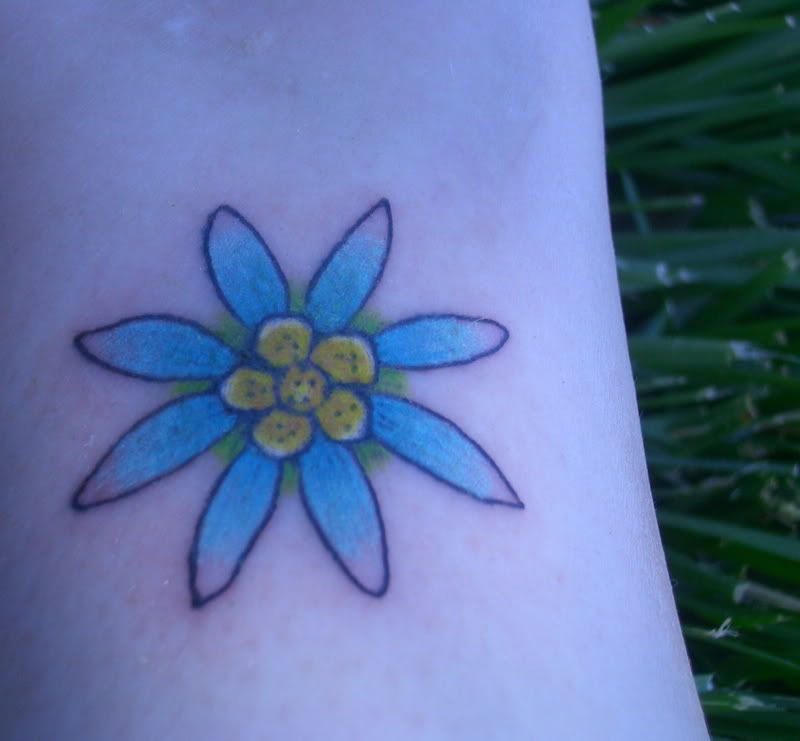 Edeweiss is hard core, too, right?
I realize the picture is ginormous, and you get to see every disgusting, irritated pore, but at least it gives the impression of being HUGE, when in actuality it's about the size of a ping-pong ball.
Edelweiss has a special meaning for me, it's a small, seemingly delicate white flower that actually thrives in high alpine environments. And it's the national flower of Switzerland, lest you forget my
pre-princess aspirations
, not to mention,
my fond memories of the Swiss and their police stations
. And while, yes, you might say, it's very pretty, isn't it rather, BLUE for a white flower?
And to you I would say, apparently YOU don't know how tattoos work. (Neither do I, really, but I just found this out) that white is kind of not really do-able as skin art, and that you often do blue to represent the shadow of white, which, I guess I get, since snow in the shadow is definitely an icy blue color, and so my flower is just very… shadow-y.
Perhaps it is being shaded by a high alpine boulder, or something.
I don't know. But I do love my new tat, I am feeling very proud of myself, especially when I just continued to sit there on the table, instead of running away screaming when the dude picked up the tattoo gun and jerry rigged it, sparks flying and everything, to drill. The dude (they were all dudes. "Men" seems insanely formal for someone with a devil goat skull next to a marching Grateful Dead bear on his elbow) on the other side of the room was like, "Ha ha, here's what a normal one looks like," and clipped it into place and it went "brrrrrrrr" all nice and smoothly, whereas MY dude's little gun was going, "prrrt, prrtt, SPARK! SPARK! prrrrrrtt!" Fortunately, Shooting Star was there, talking wedding stuff, so I was nice and distracted and hoo boy those dudes could not get over the a) extreme whiteness of my skin ("She's paler than
I
am!" said the practically albino dude. Thanks, y'all. I get it.) b) the girliness of the two of us in their very dude-ly tattoo place.
So I spent most of the weekend admiring my (now swelling) ankle and working because holy crap, for a 35-hour a week job, I have been putting in an awful lot of time….