So I can finally breathe… I had a big secret last week and I almost posted it, but then I didn't because every other month or so The Funasaurus does actually check in and say, "Hey, you're still writing about nose-picking for the internet?" and it would have been just my luck for him to check in just when I told the booger-hungry internets about throwing him a surprise birthday party. So I refrained. But it was hard to think of material when I was busy obsessing about how to get a cake shaped like a football. (Note, apparently they make such-shaped molds, and a friend happened to own one, so I bribed her with lots of promises of owing her one.)
It went off fabulously, I think. I had grand plans of whisking him away to a cute little B&B in Santa Fe, or perhaps the hot springs up in Steamboat, and then I realized that The Funasaurus does not really like B&Bs, nor hot springs. He's more of a burgers and karaoke kind of dude. So we surprised him with a barbeque with a bunch of his friends and karaoke. He sings a mean, mean, "Hungry Like the Wolf."
That's the man I married.
We slept in Sunday and then went to see
Sex Drive
, which was terrible and horrible and I strongly urge you not to waste your money on such crap. I'm not quite sure how it didn't go straight to DVD. Much like
American Pie
it completely objectifies women and has no substance to speak of, the main goal being sex and occasional scenes involving teenage humiliation. Unlike
American Pie
, it's not funny.
Besides that, I watched
Futurama
for the first time… and holy cow. I KNOW one of the characters!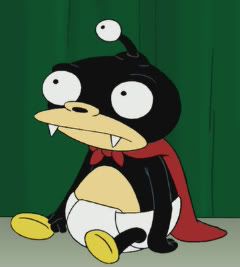 The likeness is uncanny.