Eeeee! I'm feeling all tingly with love. Love from
Elizabeth Anne Designs
, and OMG their site is so darling I am blushing. So I figured I should be all
a propos
and post wedding pictures, mostly because I've been looking for an excuse to do so. The Funasaurus and I got married last September and we're still kind of on a wedding bliss high.
I don't miss wedding planning AT ALL, but I miss wearing my pretty dress so much I will cry if I think about it too much. I will cry even more when I remember I am, like, 10 lbs past being able to squeeze into it, again, too.
I don't know how to do the fancy palates that EA Designs do, but I knew I wanted an outdoor, fall-themed wedding, and the colors I wanted to work with were burgundy and gold.
Except I went and got a dress with a lavender sash.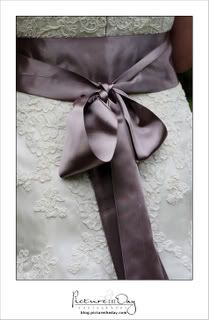 Which, you know, doesn't really go so well with burgundy and gold. In fact, it kind of clashes. But despite what Martha Stewart says, you CAN clash on your wedding day! If you want burgundy and gold and lavender, so be it, girlfriend! Your mother will probably be horrified, but whatever, you are the princess and drunk on champagne!
Cheers!
I loved my wedding day.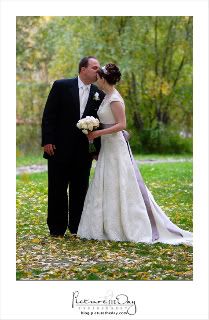 sigh
Where was I?
Oh, yes. Colors. So. Burgundy. Gold. Lavender. Ivory, what with that being the color of my dress. (It's good to establish if you're going with white or an off-white early on. It'll save you a headache. Or you can continue to clash, in which case, I applaud you!) Then I decided to add brown into the swoop of things because it'd be a good neutral-y-base-y-fall-ish color, and what the hell, I'm halfway through the rainbow, anyway. So I made my bridesmaids wear brown. I picked out the fabric and trim, told them the skirts had to be long, and then let them make their own dresses. It worked out really well, having bridesmaids spread across two continents and all over the U.S. And hopefully each girl got to wear a dress they felt comfortable in. If they didn't, it's their own fault. (Hint: throw in one darling flower girl who basically steals the show and no one will care about the matchy-matchy-ness of it all, anyway.)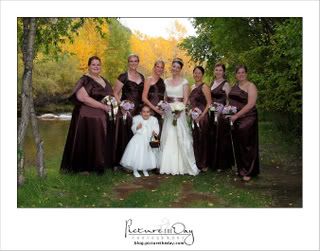 I wanted to carry white roses because my mother and grandmother both carried white roses. Except the florist decided to throw in some peach. So then peach joined the mix, on my wedding day.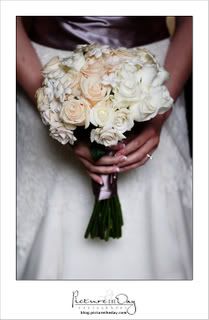 The bridesmaids bouquets and the groomsmen's boutonnieres were lavender roses (hint to husband: I love sterling roses, they are so pretty and don't have thorns) with burgundy berries. And the groomsmen wore brown vests. And didn't look too clownish. (You're welcome, groomsmen, for NOT getting lavender vests. The groom went to bat in your honor, which is a big deal, when it comes to decision making in wedding planning.)
And we decorated the aisles in those colors, too.
Um. I forget the rest of the details.
Our reception venue kind of looked like this:
The venue was already pretty decorated, so we were able to go minimal with the flowers. There were lights all over the ceiling, and it was much more romantic at night.
And then we ate the most fabulous cake, ever. Totally untraditional, but it was a shout-out to the way The Funasaurus proposed (hiding my ring in a copy of
Pride & Prejudice
, that clever monkey, he knew that'd seal the deal.) and tasted phenomenal. So I've heard. I forgot to eat some.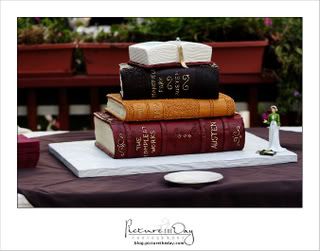 (That IS a Jane Austen action figure next to the cake, thanks for asking!)
But it was still awesome.
Then we waited seven months and went on our honeymoon, and for whomever it was that was curious, we went to a Sandals resort in Dunn River, Jamaica. Believe you me, you can get used to the "all-inclusive" lifestyle very easily. I highly recommend it, and I highly recommend going through a travel agent who can get you groovy upgrades, etc.
…
I want to do it all again.
All pictures courtesy of
Picture the Day Photography
- awesomest photographers EVER.