Last week The Funasaurus informed me that we'd be getting up at four thirty A-
frickin
-M on my precious, precious Saturday to go climb a mountain. And not just any mountain, but a 14er. Though The Funasaurus does not hike, he does enjoy a goal. So, much like going swimming for the first time during a tsunami, he went from not hiking at all to going up one of the tallest mountains in the state.
I like hiking as much as the next Colorado transplant, but I am not so into the still-dark wake-up. As evidence by the fact that I nearly chewed The Funasaurus' head off at 4:45
AM
because he put too many Cheese-Its into a plastic baggie. (According to me, and my erratic baggie quotients, anyway. According to him there is no such thing as "too many Cheese-Its.")
So we were in the car before 5, and picked up The Funasaurus' co-worker who is my NEW HERO because she had gotten in from a night of severe drinking and debauchery only two hours before, and had that weavy look of someone who is perhaps not completely sober yet, and we drove up to the mountain and began hiking. (Well, we hiked. G weaved, took a cigarette break, chugged some water, and began weaving, again. Needless to say, G did not quite make it up the whole mountain. But she made it really far, at least to 13,000 feet, which still qualifies for Rock Star Status in my book.)
So here, we made it, despite having to boulder up the last 200 feet or so with some mild altitude sickness.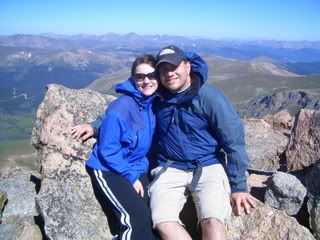 Do you not love my trendy, trendy striped pants?
So we deemed ourselves hard core, us and our Cheese-Its.
And it was pretty, even when we weren't on top of the world.
Sunday I spent the day laying around, moaning about my aching butt. Because, for whatever reason, my legs are fine, but my ass is sore as hell.