The Funasaurus and I spent a decadent weekend at a fancy hotel in Colorado Springs. We had received a gift certificate for two nights there as a wedding present, and for whatever idiotic reason, had not managed to find a weekend to properly enjoy it. Me, postpone free luxury and room service? Obviously, my princess skeelz have gotten rusty.
We actually took a little vacation from TV, which was just divine. We each had a good book (grammar issues overlooked) and spent a day just cuddling and reading and watching the flurries come down over Pike's Peak. We were there for the lighting of an oversized Christmas tree, and spent a lot of time pondering the intricacies of what, at first glance, appeared to be a darling gingerbread village. But upon further inspection turned out to be kind of ghoulish and creepy. It was all Nightmare Before Christmas-y, complete with mortuary, coffins, monks with gremlin-y pointy ears, and a gothic church on a cloud. It was awesome, but a somewhat risqué choice for the conservative older patronage that place gets. Props to the Broadmoor for their icing-encrusted shout out to Tim Burton. I'm just sorry I only got pictures of a corner of it. The creepier stuff wasn't even documented, sadly.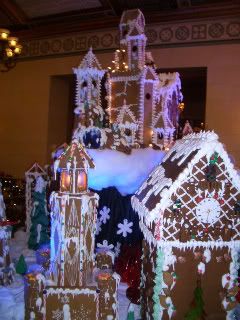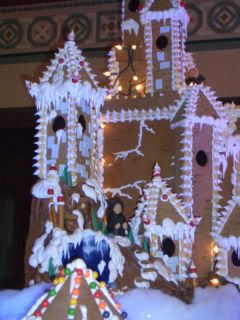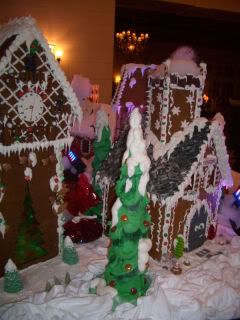 To make the weekend perfect, we got the news that one of our dearest friends finally had her baby. And she picked the prettiest name ever. And the baby is one of the prettiest babies ever, but we are so not surprised, given who her parents are. I'm really, really happy for them. And I'm in complete awe that people my age are intentionally getting knocked up. When did we get so…responsible? Want to hear what I had for dinner tonight? EGGNOG.
So it was a good weekend, with only a minor blip on the radar of happiness. That blip being a huge fucking snowstorm that caused a normally hour-and-a-half drive to turn into three and a half hours of snow-packed misery. But, hey! 'Tis the season.
It is now winter, thus the universe spake.