Things I discovered this weekend that made my life infinitely better:
* Wall-E.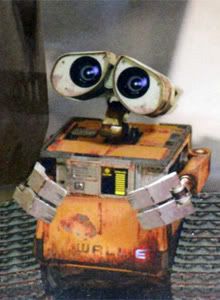 Think E.T. meets
Johnny 5
meets the cutest kitten you have ever seen. I love him so, so very much. The kitty porn is gone from my computer's backdrop, and has been replaced with the most darling little robot ever. EVER. You can get your own bit of cute robotic backdrop love here:
http://disney.go.com/disneypictures/wall-e/
*
Rachel's Wickedly Delicious Yogurt.
Chai yogurt- ingenious! It's all the probiotics you could want in a yummy, Christmas spice-y way.
Why has this not been thought of sooner?
The pomegranate acai is worth mentioning, as well.
* How homesick I really am. I bought a shirt this weekend not because it is a flattering color on me, or a flattering cut. (Neither is true.) But it is the EXACT print that used to be on the underside of the umbrella on our patio in my childhood home. Kind of a garish yellow and orange print that had the unfortunate side affect of attracting bees to our picnic from very far off every time we opened it to have lunch. I intend on wearing it regularly, despite said lack of flatteringness.
Pictures to follow if I can actually find a picture of the underside of the umbrella from the patio of our childhood home. That might be asking a bit much.
Meanwhile the vacation's over, work's picking back up. And next week I fly to Miami for a business trip and work my ass off but get to stay in a nice hotel, so it's an o.k. trade-off. I just wish The Funasaurus was going with me. Because I'm codependent like that. Plus, you know, it's nice to have someone to…
snuggle
with, when one is staying in a fancy pants hotel with a fancy pants cushy bed.