Hello, there! Sorry for the delay, I know I've been absent, again. But I went and got m'self hitched and was just a little distracted! It went amazingly well, I actually got to be a princess for a weekend and I ate up every second of it with a silver spoon.
The ceremony went really well, despite forcing all of my guests to sit through a little fall rain shower (
read: torrential downpour
) as I sat in my cozy little cabin, waiting for it to stop so that it wouldn't mess up my pretty updo. At one point the pastor came back and asked if perhaps it was time to move things inside, what with the thunderhead clouds rolling in, and I tried to look as serious as I possibly could as I pretended to ponder the decision before saying, "I think we should stay outside. I've always wanted an outdoor wedding."
And that's the story of how I got my dream wedding and made all my friends hate me all at the same time.
We started off the morning at 7:00
AM
at the salon (whoo hooo, my bridesmaids already hated me even before I made them go stand outside in the rain!) but we got the champagne flowing, so it softened the blow.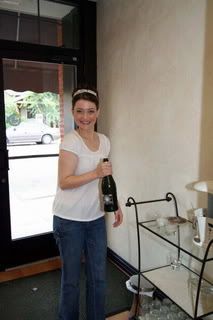 The Funasaurus and I had an amazing time, circulating, drinking, dancing, and eating The Most Amazing Cake Ever.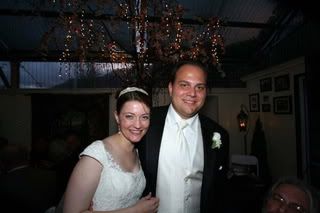 If I haven't already explained, The Funasaurus proposed by hiding my ring inside a copy of
Pride & Prejudice
. Only the most awesomest love story ever. And somehow we found a baker who was just open-minded enough (and talented!) to recreate the moment in a cake.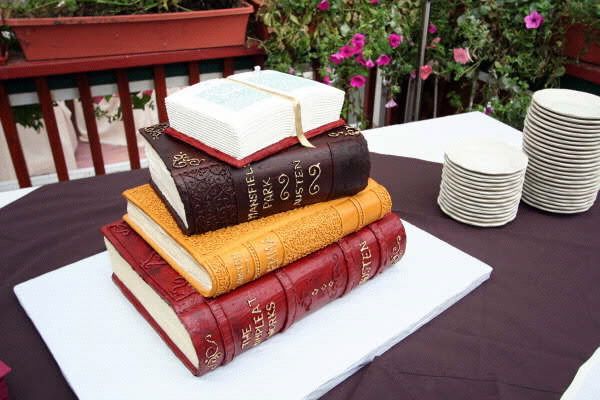 Blow me, Carol Wilkens and anyone else who said my desserts weren't good enough to trade for in 2nd grade. You're sorry you didn't stay in touch now, aren't ya?
Photos courtesy of the lovely Mrs. Shooting Star, who not only doesn't hate me, but bought me and the bridesmaids bagels on the morning of the wedding. Many kisses to you!
The day was a success. I can't believe it's over, after all that planning. But thanks to everyone for their support, and
Meno
, here is our most bizarre wedding gift to date, that I thought you would appreciate as my cyber maid-of-honor.
(It's a dragon rain-gutter-attachment-thing-y. Because my mom's friend was high when she went shopping for us. [Seriously.] And because nothing says, "Romance" like a ceremic reptile enema. Not that I'm complaining. It's awesome.)