I am sick.
There is no other explanation. I just left a party early. A party. A party with
FREE ALCOHOL
and lemon meringue tartlets.
WTF is wrong with me?
Well, there was a decadent hotel room complete with bubble bath waiting for me. And also an infinite number of spreadsheets, that I'd like to complete before 3:00 in the morning. (Obviously, taking a break to write on my blog whilst sipping Chardonnay is a great way to efficiently reach that goal.) My social skeelz are plummeting, but I care not, for if you were to sleep in this bed, oh, you would want to go to bed at granny-early, too.
In happier news, following up my last e-mail of joy and sunshine… The Funasaurus and I indulged a dream, and with some creative financing, we have procured ourselves this: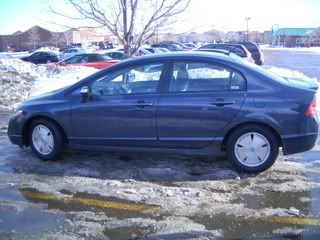 A Civic hybrid. It makes me happy to think about it. And bless his ever-trusting soul, The Funasaurus even lets me drive it. Immediately after we drove it off the lot, we proceeded to joy-ride around the greater Denver area for no reason at all, spewing our energy-efficient exhaust willy-nilly, and marveling at our Jetsons-like dashboard.
Sadly, I had to leave the dream behind, as we partied like rock stars into 2008 with our annual Funasaurus party, and then I woke up four hours later and went to the airport for my business trip to San Francisco.
And thus, here I sit, once again in the lap of luxury, running spreadsheets until my eyeballs bleed.
Fucking why I haven't I ever had
THIS
before? Because it is my new favoritest thing
EVER
. A) It's so pretty. B) It's stupidly expensive. C) It tastes so yummy. (If water can be yummy.) So can you just imagine how my little heart leapt with cracked-out joy when I discovered it's also from Norway?? Oh yes. Artesian H2O directly from Scandinavia, specifically the country I intend to reign over
somewhat
benevolently, someday. I am in
heaven
. And drinking many (recyclable? Eh, it's iffy) bottles of beautiful water daily. Between glasses of Chardonnay.
Get yourself some. You will not be disappointed.
Thus I spake.